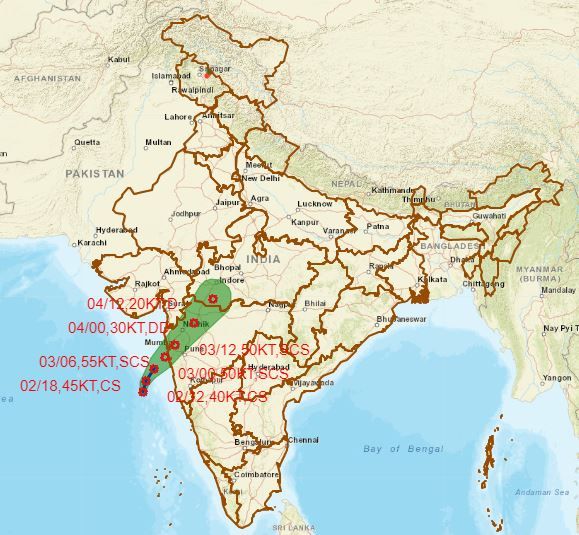 This morning's weather map of the anticipated course of Cyclone Nisagra. As you can see Mumbai is located on the map in the dark green area indicated as the path of the cyclone.
Note: To all of our readers visiting our site via a smartphone, please click the "View web version" tab under the word, "Home" at the bottom of the page to access the web version enabling you to access all of our archives on the right side of the page. We'll be updating our site in a few months, making these extra steps unnecessary. Thank you.
It's morning in Mumbai, June 3, 2020. Cyclone (hurricane) Nisarga is expected to make landfall in Mumbai in the next few hours. There's literally nothing we can do other than to stay put in our hotel room, away from the full wall of glass windows, heading out to the corridor if it becomes dangerous to our safety.
At this point, with varying news reports online, each stating different information, we have no idea as to the specifics other than what we feel is accurate on IndiaToday TV news.
There hasn't been a cyclone of this magnitude in Mumbai in 129 years. As a result, disaster control may not have the necessary experience in handling this type of disaster. However, it appears they've evacuated almost 100,000 people living in high-risk areas where their homes consist of tents, huts, and lean-to type properties.
This leaves millions of citizens in danger who reside in less sturdy buildings whose roofs and entire properties may be subject to the ravages of this untimely disaster.
Covid-19 patients in tents and less secure properties have been relocated to areas with generators to ensure ventilators and other mechanical life-support systems are protected by the use of generators.
Last night, we called the reception staff to inquire if the hotel is protected with generators. As most major hotels, they assured us we will have a continuous power source if the local infrastructure fails during the storm and thereafter.
However, there is no guarantee that WiFi will continue if local towers are felled during high winds, expected as high as 125 km, 78 miles per hour, or more, with definitive speculations unknown at this time.
Last night, after we'd gone to bed while watching the news, we got up at midnight and packed, in the event we'd have to evacuate in a hurry. We doubt this is a possibility.
On the fourth floor of this large 334 room hotel, we're anticipating we'll be safe, although we're fairly close to the Arabian Sea from where Cyclone Nisarga is rapidly gaining speed and intensity.
On the news at the moment is a video of the thousands of fishing boat owners getting into the sea to further secure their boats, covering them with makeshift tarps and coverings. This is their livelihood. Losing their boats to this storm will only be yet another disaster after Covid-19 has left so many poor families suffering.
We're not adding any online news reports to today's post when each publication is vastly different from others, except for the following, seeming factual information from this site which doesn't allow me to copy and paste their story.
Instead, as we watch the TV news we feel well informed as to the progression of the storm. The area most at risk where the "eye" of the cyclone will hit, is Alihab, a mere 90 km, 56 miles from the center of Mumbai. The cyclone itself is over 125 km, 78 miles wide.
Thus, if the cyclone eye hits its exact anticipated target of Alibab, a suburb of Mumbai, this area will be greatly impacted As we know of hurricanes, cyclones, and storms, their path can change at any point.
As I upload today's post shortly after 12:00 pm., we've begun to feel the beginnings of the storm. In an hour or more from now, the full brunt of the storm will reveal itself. It's raining heavily at the moment but the winds are yet to come.
If, over the next several days, you don't see a post from us, please know, as soon as we are able, we'll be back online.
Prayers for all the people of India and the world, on this frightening day, during these frightening times in our lives.
______________________________________
Photo from one year ago today, June 3, 2019:
What an adorable Poll Dorset lamb on the property on the farm we rented in Devon, England, one year ago. Please click here for more details.