We hope that all of our readers/friends had a safe and enjoyable New Year's Eve and that today will be a special day for relaxing, eating good food, watching sports, and spending time with family and friends.
We stayed in last night but had a great time, just the two of us. We enjoyed drinks, music on our JBL speaker, and a great dinner of ham sliders, salad, and rice. Having an actual ham sandwich was such a treat for me now that I can have my homemade keto bread, which doesn't raise my blood sugar.
I only ate one small sandwich but took little bites to savor every morsel. I added a thin slice of Maasdam cheese, lettuce, and mustard. The ham was moist and flavorful. It wasn't a precooked ham and had to cook long enough to be thoroughly done for about 90 minutes. We have one larger ham left and can't wait to have those sandwiches again.
Tom hadn't had anything like this in a long time, and he had four little sliders with the soft mini buns buttered, ham, and cheese. He was in food nirvana. I could tell by the look on his face. It's funny how the most seemingly simple things give us so much pleasure.
After dinner, we hung around outside for a while until the bugs became unbearable and went inside. We stayed up to bring in the New Year and ended up watching the entire fifth season of Peaky Blinders. We never had trouble staying awake and sent New Year's wishes to family and friends when the clock struck midnight. It was a lovely evening, after all.
A few minutes ago, we laughed out loud when a little piglet got lost from his mom and finally found her. When he saw her at a distance, he squeaked so loud with a thumping sound, as he ran, we were hysterical laughing. It was the cutest thing! Earlier this morning, Tom rescued a dung beetle stuck in a hole in the dirt, unable to get himself and his ball rolling again. Tom took a little stick and gave the ball and the dung beetle a little nudge, and he was on his way again, searching for a mate.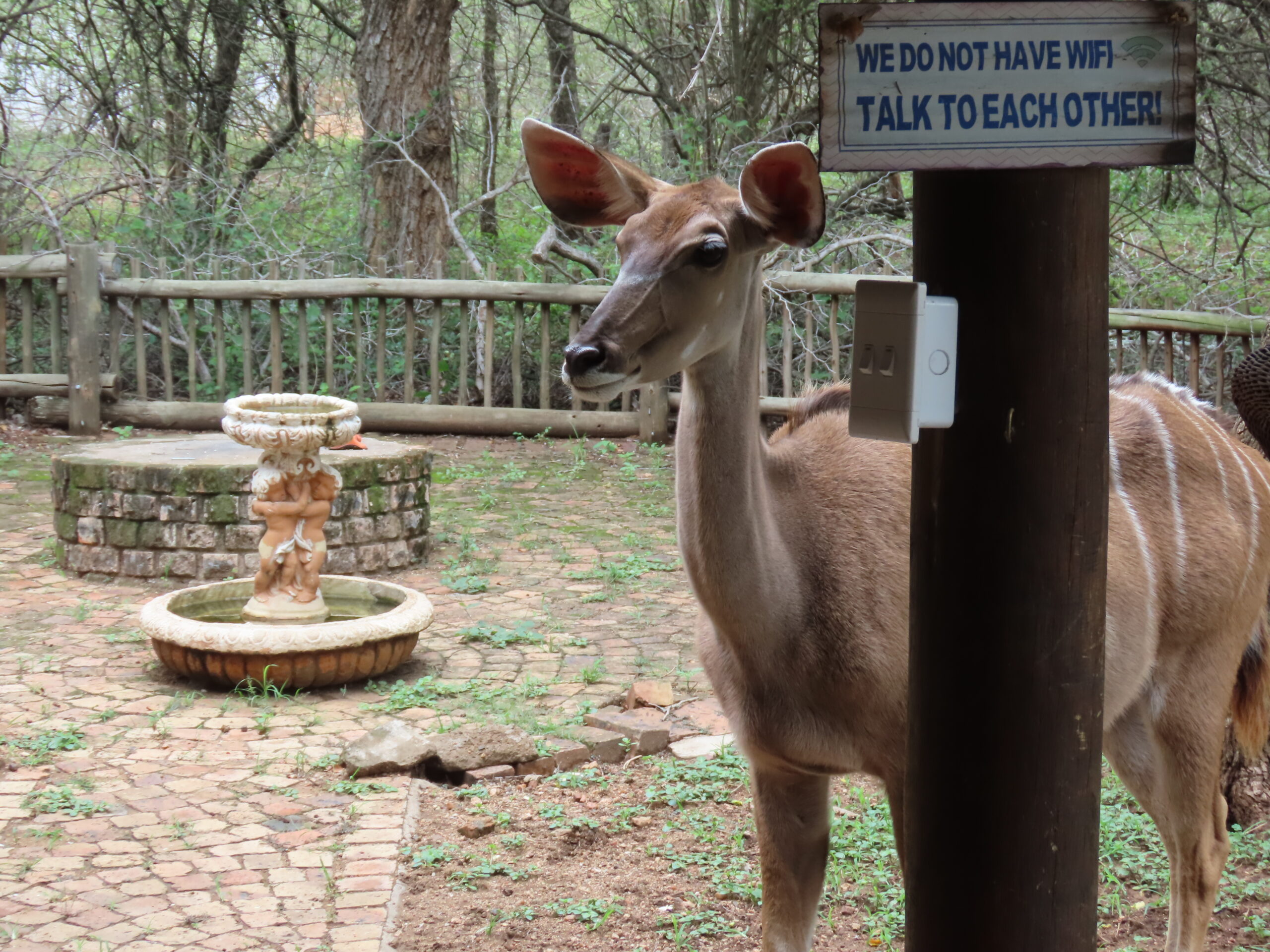 The bush is filled with little wonders that leave us reeling with delight. All we have to do is sit at the table on the veranda, as we do all day, watching carefully for what treasures Mother Nature can send us. Ah, the little things always make us laugh the hardest and the most often.
Yesterday, we recalled where we spent the past 11 New Year's Eves. Our list includes the links for the specific posts that appeared on January 1. Here they are:
January 1, 2013 – We were in Scottsdale, Arizona, wrapping up the final details for our first cruise, sailing out of San Diego, California, on January 3, 2013. The post may be found here.
January 1, 2014 – We were here in Marloth Park and attended a fun party at Jabula, staying until after midnight. The post may be found here.
January 1, 2015 – We were on the Big Island, Hawaii, in the town of Pahoa with our family, where lava was expected to wipe out the city while we were there. For the exciting story, please click here.
January 1, 2016 – We were in Pacific Harbour, Fiji, staying in a lovely teak house with a big pool. The post may be found here.
January 1, 2017 – We were in Penguin, Tasmania, one of Tom's favorite places on Earth (so far). The post may be found here.
January 1, 2018 – We were in Palermo, Buenos Aires, waiting for the upcoming cruise to Antarctica. The post may be found here.
January 1, 2019 – We were in Marloth Park, attending a party in the bush. The post may be found here.
January 1, 2020 – We were in Apache Junction, Arizona, with Tom's sisters, awaiting our adventure on the Maharajas Express Train and then a private 56-day tour of the country. The post may be found here.
January 1, 2021 – We were in lockdown in a Mumbai Hotel (for 10 months) on New Year's Eve. The post may be found here.
January 1, 2022 –  We were here in Marloth Park, attending a party with a big surprise. The post may be found here.
January 2, 2023 – Here we are in Marloth Park for our fourth New Year spent in this wildlife wonderland, filled with the many friends we've made over the years.
Today, Dawn and Leon are stopping by for fun food, drinks, and, of course, lively conversation with endless stories to share. We will surely spend another fantastic New Year's Day in the bush.
Be well. Happy New Year!
Photo from one year ago today, January 1, 2022: